Two-time Australian Open champion Victoria Azarenka says she sympathizes with Novak Djokovic after he spoke out about injury speculation.
Key points:
Azarenka claims she was mistreated by the media after an incident at the 2013 Australian Open.
She says it took her 10 years to recover emotionally
Djokovic reacted harshly to speculations about the seriousness of his injury
Djokovic spoke to Serbian media after defeating Alex de Minaur in the fourth round on Monday night. he was treated unfairly, claiming that his hamstring injury wasn't as bad as he thought.
Then Azarenka spoke booked her semi-final berth with a straight sets win over world number three Jessica Pegula, He said he understood what Djokovic was going through.
She was referring to the controversy that followed her 2013 Australian Open semi-final win over Sloane Stephens.
After losing five match points while serving at 5-3 in the second set against Stephens, Azarenka took a medical break to receive treatment for what she described as a rib injury.
The match was delayed for about 10 minutes and after resumption, Azarenka broke Stephens' serve and won 6-1, 6-4.
Azarenka, who faced the media after the match at the time, fiercely defended the move amid suggestions she had used a medical break to disrupt Stephens' concentration as a matchmaker.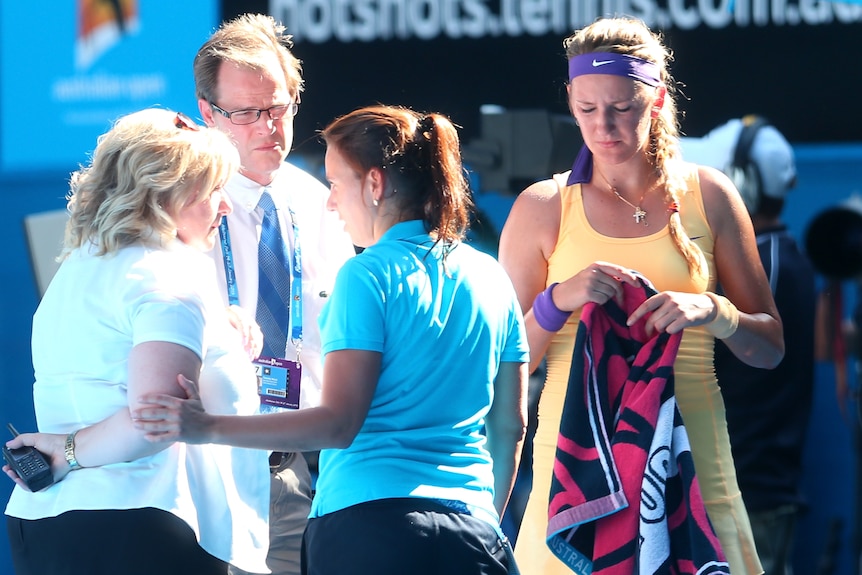 Azarenka won the final and won her second Australian Open title in a row.
The former world number one said it took her a decade to emotionally recover from what she felt was an unfair media scrutiny.
"It was one of the worst things I've ever had in my professional career," Azarenka said after her win over Pegula on Tuesday night.
"How I was treated after that, I had to explain myself until 10:30 p.m. because people didn't want to believe me."
Azarenka said she understood Djokovic's frustration as she dismissed claims she was exaggerating her injury.
"I can actually echo what Novak said the other day," he said.
"Sometimes there's, I don't know, (this) incredible desire for a villain and hero story that needs to be written.
"But we are not villains, we are not heroes, we are ordinary people who go through a lot and a lot.
"Assumptions and judgements, all these comments are just bullshit because nobody is there to see the full story.
"It didn't matter how many times I told my story, it didn't cut it … it took me 10 f***ing years to get over it. I finally got over it."
Azarenka said she has struggled with anxiety on and off the court for a long time.
"I think it builds up until it gets to a pretty bad place where it doesn't make any sense," he said.
"You feel lost. I was at a point where I couldn't find anything (me) that made me feel good about myself."
Azarenka will face Elena Rybakina in Thursday's semi-finals, making her first appearance in the last four at Melbourne Park since her 2013 tournament victory.