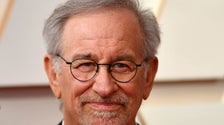 Steven Spielberg looks back on the epic superhero film he thinks should have won an Oscar.
Reflecting on some of last year's biggest blockbusters — Avatar: The Last Airbender and Top Gun: Maverick — that were recently acquired Best Picture nodsthe iconic director talked about one particular film he still wants to get nominated.
On Tuesday, after the Oscar nominations were announced,Fablemans"- shared the director of the university interview with Deadline that he was "really encouraged" by those successful blockbusters that got their due but insisted that DC's The Dark Knight would "definitely be nominated for Best Picture" today.
It points to the Academy of Art solution to nominate a guaranteed 10 films each year in 2020 as part of its equity and inclusion initiative, the 76-year-old star said: "A film that should have been nominated years ago is late."
"So having these two blockbusters feature solidly in the top 10 list is something we should all celebrate," he added.
Heath Ledger received a posthumous award Best Supporting Actor Oscar next year for his insanely good performance as the Joker.
The semi-autobiographical film also earned the king of cinema first nomination for Best Original Screenplay.
Joking to The Hollywood Reporter that his late parents "forced" him to bring The Fablemans, a story based on his parents' lives, to the big screen, Spielberg revealed the "coming of age" project was one he "really wanted to tell."
"I started seriously thinking, if I had to make one film that I haven't made yet, something that I really want to make on a very personal atomic level, what would it be? And there was only one story that I really wanted to tell," he said.
The 95th Academy Awards, hosted by Jimmy Kimmel, is scheduled to air on March 12 at 8:00 PM ET/5:00 PM PT on ABC. Check out the full list of this year's Oscar nominees. here.