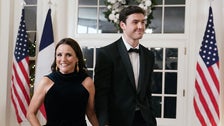 Julia Louis-Dreyfus managed to stay in mom support mode when asked about her son Charlie Hall's raunchy scenes on The Sex Lives of College Girls.
On Tuesday, the "Veep" star appeared on "Jimmy Kimmel Live" and opened up about her 25-year-old son's role on the HBO Max series.
"It's a spicy show," Kimmel noted.
"It's a very spicy show, yes," Louis-Dreyfus agreed.
"Do you watch the series in fear that you might see something you haven't seen in a long time?" Kimmel asked.
"Well, I mean, I watched the show. And I think he was, you know, really great," she replied. "I mean, he was adorable. He was fucking some girl in the library," she quipped, laughing, "and I thought it was, I thought it was, uh … dynamite.
"Saturday Night LiveThe alum has two sons, Charlie, 25, and Henry, 30, with her husband of more than three decades, Brad Hall.
Over the past few years, Charlie Hall has created several film and television projects, including Sweethearts, Big Shot, Single Drunk Female and Netflix feature film Moxie.
Louis-Dreyfus said last year that her son was "very interested in being an actor and he's really good at it."
Her latest comments about him begin at the 7:30 minute mark in the video below.