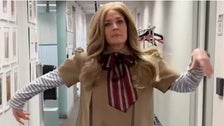 Drew Barrymore just recreated one of the most popular horror moments of 2022 — and it's every bit as awesome as you'd expect.
In the clip from "The Drew Barrymore Show,," host dressed up as a deadly underage humanoid doll from the horror movie "M3GAN" before Alison Williams' appearance on Wednesday's episode of her daytime talk show.
Williams stars as Gemma, a robotics engineer who created the "Model 3 Generative," or M3GAN, a brutal prototype artificial intelligence in the horror film.
Dressed in the character's "killer" wardrobe of a dress and bow scarf, Barrymore does her best impersonation of the undead slayer, even adding a blonde wig and blue doll socks.
Re-creating creepy dolls viral dance behind the scenes, the 47-year-old's M3GAN-esque spin, body-tilt and shimmy movement bust – minus the messy twerking and rolling. Watch the clip below.
Following the film's release, M3GAN's TikTok-style dance took off on social media, with #M3GANDANCE garnering over 312 million views.
The sci-fi horror film follows an AI robot that is trained to babysit, but goes awry, turning into a machine that threatens the lives of everyone except the child it is supposed to protect.
Chiller stars Williams, Violet McGraw, Ronnie Chieng, Brian Jordan Alvarez, Jen Van Epps, Laurie Dungy, Stéphane Garneau-Montagne and Jenna Davis.
last week, The Hollywood Reporter said a sequel to "M3GAN," "M3GAN 2.0," is in development. According to THR, the film is slated to hit theaters on January 17, 2025.
"M3GAN" is now in theaters.